2010 Tamamura Fireworks Festival ~Country Dream Fireworks~
Date and time: July 17, 2010 20: 00-21: 00
Location: Tamamura Fire Station South, Tamamura Town, Sawa-gun, Gunma Prefecture Japan
Organizer: TAMAMURA fireworks Executive Committee
Responsible pyrotechnist Kikuya Obata Fireworks Store
Launch quantity: 10,000
Official website:Tamamura Town Website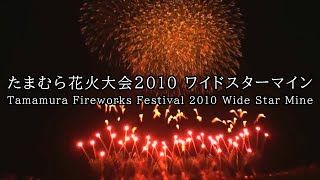 2010 Tamamura Fireworks Festival Wide Star Mine fireworks display [Tamamuran night]
From 2010 Tamamura Fireworks Festival Denen Yume hanabi 2010, it is Tamamuran Night of music wide star mine fireworks display(pyromusical).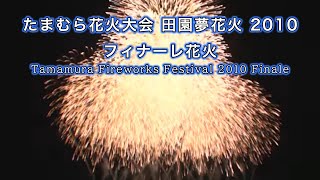 2010 Tamamura Fireworks Finale [Dream of 38000]
Tamamura Fireworks Festival tells the beginning of summer in Gunma Prefecture.
The last one is Dream of 38000, a magnificent finale wide star mine fireworks dispaly where large fireworks are launched one after another.
The fireworks festival was held for about one hour, but the last two programs uploaded to Youtube.